October 17th, 2008 by Sean N.
It's tough to think that if we had a somewhat decent Head Coach - the Orange might be 2-0 in the Big East – and possibly playing a meaningful game this weekend in terms of how the conference will shake out. Now we're headed to Tampa to try and play spoiler to the Bulls – which probably means the Orange wont notch a Big East victory until November…if at all.
When: Saturday October 18th, 2008 – 12:00 PM Eastern
Where: Tampa, Florida at Raymond James Stadium.
Capacity: 65,857
Television: Time Warner Sports - Channel 26
The Spread: The Line opened at Syracuse +25 – but has since fell to Syracuse +23.5 with just about 46% of the money going on Syracuse to cover.
Rivalry info: Rivalry? Since South Florida has joined the Big East - they have had no problem with the Orange. The Bulls are 3-0 all time against the Orange – outscoring them by an average of 32-7.
Coaches: South Florida - Jim Leavitt - 12th season at South Florida (84-47 overall.) Syracuse- Greg Robinson – 4th season at Syracuse (8-33 overall.)
Syracuse Offense ranked #106 vs South Florida Defense ranked #11: Want to see how much Curtis Brinkley and our Offensive Line has really improved? You'll get your chance this weekend. South Florida ranks among the best at #6 against the run thus far this season. Only once have the Bulls allowed a opposing rusher to gain more than 60 yards against them this year – that being Pitt RB LeSean McCoy (142 yards) - who ran against a Bulls defense without star DE George Selvie and starting LB Brouce Mompremier. Both are expected to be suited up and ready to go this Saturday -which doesnt bode well for the Orange.
The only chance the Orange have in this game lies again in the hands of Curtis Brinkley - who has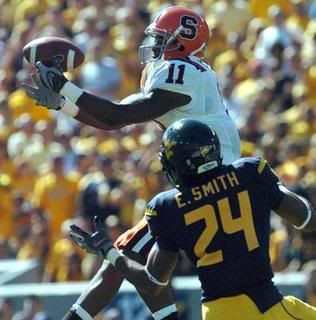 looked stellar gaining 100+ yards in his last three outings and averaging nearly 5.5 yards a carry this season. The Orange dont have nearly the speed or athleticism to try and get into a shoot-out with the Bulls so they're best shot is to do what they've done best – run the ball. The Orange were able to hold onto the ball for nearly 12 minutes more than the Mountaineers and were able to churn out a total of 20 first downs – and that probably played a big part as to why the Mountaineers were held to 17 points (Pat White or not, WVU should have scored in the 30′s.) It'll be hard to run the ball on the Bulls – seeing as they'll attack the ball better than anyone we've seen this season, but you cant take the ball out of Brinkleys hands with how he's ran the ball.
The Bulls have been somewhat decent against the pass ranking 47th in the nation – but thats not saying much considering some of the passing attacks they've faced (Tenn Martin, FIU, UCF, NC State.) No matter who you bring in it's tough to replace CB's like Jenkins and Williams who were lost to the NFL Draft. Lobdell finally broke out and grabbed a few nice balls and Donte Davis was solid as well grabbing a game leading 7 receptions last week. If Dantley is unable to put together a few things in the air the Orange will be dead in the water. I expect the Bulls to bring the house starting early and it's important Dantley burns them once or twice to keep them as honest as possible.
South Florida Offense ranked #25 vs Syracuse Defense ranked #107: Once again – the Orange are just simply outmatched. We got a break last weekend without having to face White – but now we're faced with an even tougher task in the name of Matt Grothe. Grothe has racked up just over 1500 yards all purpose and has accounted for a total of 11 TD's six games into the season (9 passing, 2 rushing.) He can burn you with either his arm or his legs and probably has his best set of recievers
to throw to since hes been in South Florida (primarily Taurus Johnson and Jessie Hester.)
There really is no way for us to stop Grothe – but if we can avoid making the same type of mistakes that we did against Penn State weeks ago (primarily missed tackles and mis-reads) then we might be able to at least contain Grothe and Co. to an extent.
South Florida defensive coaches phones were off the hook this offseason with calls from college coaches dying to know how they were able to stop West Virginia and the spread – their answer? Speed and fundamentals. Since the spread is geared to create 11 one-on-one matchups and to exploit individual speed – form tackling is a must. If the Orange make the same weak arm tackle attempts against South Florida its going to result in a ton of big plays (since you really have no defensive back up) and the scoreboard is going to roll.
There really isnt one scheme or trick to stopping the spread – if you have a few playmakers its going to be quite easy to rack up yardage inbetween the 30′s. Once you hit the 30 its tough to really utilize the spread to your advantage because theres not as much field to work with. The Orange are going to have to hold strong during that time and hope to cut a few South Florida TD drives into FG attempts.
Why Syracuse will win: The South Florida Defense is still banged up and Brinkley is able to take advantage and continues his hot streak. Ball Control! Last week Syracuse held the ball for 36 minutes and were in the game deep into the fourth quarter. Pittsburgh held the ball for 37 minutes against the Bulls (resulting in 16 more plays) and were able to hold the Bulls to 21 points and win the game.
Why South Florida will win: South Florida is just too fast for the Orange. Grothe has no problem burning an undermanned Syracuse Defense and jump out to an early first half lead. Mike Ford and the Bulls ball control the second half and still end up beating the Orange big.
Syracuse player to watch: RB Curtis Brinkley – 621yards rushing – 3 rushing TD's – 8 receptions for 41 yards
South Florida player to watch: QB Matt Grothe – 63.9% completion – 1,304 passing yards – 9 TD's 3 INT's – 258 yards rushing – 2 rushing TD's
Reyes39 Prediction: South Florida 42 – Syracuse 10
-Stats thanks to ncaa.org and cfbdatawarehouse.com
-Lavarr Lobdell photo from Frank Ordonez/The Post Standard